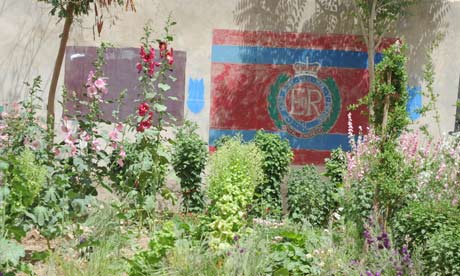 A "Defiant Garden" in Afghanistan (defiantgardens.com)
Do you remember playing with a "View-Master" as a kid? I loved mine. It's a device used for viewing 3D images that transported me to Carlsbad Caverns or Disneyland or to undersea worlds whenever I wanted to go for a visit. One day, Kenneth Helphand, a professor of landscape architecture at the University of Oregon decided to purchase an old stereopticon at a flea market, the original "View-Master." What he saw was a picture that surprised him: a scene of shelters in French military trenches surrounded by gardens. After a great deal of research, Helphand found out that gardens have often been created in times of war. Gardens flanked the Western front during World War I, Jewish ghettos during World War II, German POW camps, Japanese-American internment camps in the U.S., and war-torn areas of Sarajevo. Today, gardens have sprouted up in the deserts of Iraq and Afghanistan as well. The gardens symbolize a refusal to give in to the darkness of present circumstances. In fact, Helphand calls them "Defiant Gardens" (see also Kenneth Helphand, Defiant Gardens: Making Gardens in Wartime). These gardens are a clear expression of invincible hope. As we have seen, John's letter was written to help us recognize some clear signs of true Christian faith; and the sixth of these "life signs," explored in 1 John 3: 1-3 is a life of boundless hope.
1

How great is the love the Father has lavished on us, that we should be called children of God! And that is what we are! The reason the world does not know us is that it did not know him.

2

Dear friends, now we are children of God, and what we will be has not yet been made known. But we know that when he appears, we shall be like him, for we shall see him as he is.

3

Everyone who has this hope in him purifies himself, just as he is pure (1 John 1: 1-3).
What does John say to his reader about the power of hope in this passage? The first thing I believe is this: Our hope as Christians is not defined by genetics or genealogy, but by the love of our heavenly Father.
"How great is the love the Father has lavished on us, that we should be called children of God. And that is what we are!"
One of the biggest hope crushers is the idea that heredity is destiny; that because certain traits are passed on from one generation to the next, our
nature
must also be fixed and our
future
predetermined.
This is simply not the case biologically, and it is certainly not the case biblically.
The Bible affirms that our lives are not defined by inherited family traits or by the type of family we were born into or raised in.
In fact, God delights in taking those who might consider themselves
disadvantaged
in some way because of genetics or geneology…and using them for his glory.
And, frirends, that's
all
of us!
A brief look at the geneology of Jesus reminds us that Jesus not only came
for
sinners…but, as Dale Bruner points out, he came
through
sinners.
Matthew reminds us in the first chapter of his gospel that Jesus was a son of Abraham, the father of Isaac, the father of Jacob, the father of Judah and his brothers…
Now if anyone deserved the prize for "most dysfunctional family" it was Jacob's family. Jacob had 12 sons and one daughter with two wives, and two female servants, all living for many years under one roof. It would have been the perfect reality TV show. As the story goes, Joseph was Jacob's favorite son (see Genesis 37), which is why

his jealous brothers planned to get rid of him (and that amazing technicolored dream coat which his father gave him). So they decided to throw him in a well, amd then sat down and had lunch.

After they finished eating, Jacob's fourth son, Judah had a bright idea. "Let's not kill the kid. After all, he is a member of our family. Let's sell the brat into slavery, and make some money in the process." That's a loose paraphrase. So they sell him to a band of Ishmaelite traders.

In the end, they dip Joseph's robe in the blood of a freshly killed goat, and tell Jacob that his favorite son was killed by an animal.

But the best part of the story is how God uses Joseph, despite his own youthful arrogance and his brother's cruel plans, to plant gardens in the desert (literally); to grow and store precious food reserves and save many lives during a regional famine…including his own dysfunctional family.
The story of Joseph teaches that heredity cannot trump the sovereign plan of our heavenly Father. The New Testament makes the same point again and again. "Consider your own call my brothers and sisters," writes Paul to the Corinthians, "not many of you were wise by human standards, not many were powerful not many were of noble birth. But God chose what is foolish in the world to shame the wise; God chose what is weak in the world to shame the strong…" (1 Cor. 1: 26-29).
John says it is because of God's love alone, that we have been called "children of God, and that is what we are!"
We can have hope because despite the dysfunction and sin in our own family history, God has adopted us as his children!
(Rom.8: 14-17).
If our hope as Christians is not limited by our personal history, it is not limited by our mental capacity either, by what we can know or figure out. Instead, it is defined by what Christ will make known when he appears.
"The reason the world does not know us is that it did not know him. Dear friends, now we are children of God, and what we will be has not yet been made known. But we know that when he appears we shall be like him, for we shall see him as he is"
(2)
John begins by reminding us that there are many who do not know the most important fact in the universe. "The reason the world does not know us is that it did not know him" he says. There is something more important than math; more important than history; more important than science – not because these are unimportant, but because it is God who makes all these things possible. As his children, we know the most important Fact in and beyond the universe… the living God who actually took on human flesh and dwelt among us, full of grace and truth.
John does claim to know the most important Fact...but notice that he doesn't claim to know it all.
On the contrary,
there are many things about our future, to say nothing of our present, life with Christ that we do not fully understand.
Therefore John says,
"Dear friends, now we are children of God, [but] what we will be has not yet been made known"
(2).
I find John's humility refreshing…especially when considering how generally confident he is.
I'm thinking of Moses in Deut. 3:24 who says,
"O Lord God, you have only begun to show your servant your greatness and your might…."
And there is Paul who says,
"Now we know in part, then we shall know fully even as we are fully known"
(1 Cor. 13:12).
The limited knowledge John does claim, however, is this: "But we know that when he appears we shall be like him, for we shall see him as he is." There are three things John says that we know by faith: First, w
e know that he will appear. Christ is coming again to take us to himself! Second, we
know that we will see him. The life beyond this life is one in which we shall see beauty…and the most beautiful thing of all will be the face of Christ.
Finally, we know that in seeing him we shall be
like
him. In other words, the person we are becoming right now by his grace…is a person very much like Christ, and what hope that brings us in the face of the darkest moments of this life.
This past week, I spoke briefly at a service for a dear friend from a church I served when my wife and I were first married. This woman and her husband along with several others from that church, came alongside us in our first year of marriage. When we heard that she was very sick, Lisa and I visited her in the hospital. We wished that we could have spoken with her, but she was not able to respond at the time, and so we wrote a long letter to her and left it after we prayed together with her husband.
Judy was a woman of deep faith…she was someone that used to go with me to visit others in the hospital.
It was very hard to understand or accept her death, and at her memorial service tears were streaming down my face.
Yet I want to testify that I came away from that memorial service with what I can only describe as a deep and abiding hope…a hope and joy that I can only explain as a gift from God.
Paul was right... we grieve like anyone else, but not as those who have no hope (1 Thess. 4:13).
It's been said that there are three kinds of facts.
There are those things I know that I know.
There are those things I know that I don't know.
And finally, there are those things that I don't even know that I don't know.
That's the biggest category of all!
Friends, when you have come to the end of your knowledge and understanding… that is the time to trust in the One who knows the beginning from the end, who rose from the dead, and who will let
no one
snatch us out of his hand.
Even so, John wants us to know that Christian hope is not only hope in the glory of eternal life, our hope as Christians
is the future certainty that's shaping our daily decisions and actions. For "Everyone who has this hope in him purifies himself, just as he is pure" (1 John 3:3ff.)

One criticism of Christian faith is that it is simply "wishful thinking, pie in the sky by and by" and has little to do with this world. Lewis argued exactly the opposite:

"If you read history you will find that the Christians who did most for the present world were precisely those who thought most of the next" (Mere Christianity).
Human beings are designed to thrive on hope. Negative emotions like fear have their place…like when we're walking through a dark alley and our body tenses and prepares for self-defense.
Chip and Dan Heath in their book on "Change" point out what we all know intuitively to be true: that
it is the positive emotions that "broaden and build", opening us up to new possibilities; that joy prepares us to play; that the feeling of interest moves us to investigate; that feelings of accomplishment make us want to try something new; that to solve bigger and more ambiguous problems we need "open minds, creativity, and hope" (Chip Heath & Dan Heath, Switch: How to Change Things when Change is Hard).
I had a conversation with a man the other day who personally
knows
a Chinese dissident in his country under house arrest. As we were talking, I realized that this was the same man on whose behalf I wrote a letter for Amnesty International. Incredible! I asked him if he considered himself a Christian. "Not yet," he said! But he did have hope that things will change in his country and for his people; and though he was not yet a believer, he spoke first hand of the underground church that is flourishing beyond government control; and let me tell you that his hope filled me with hope as well.
Hope empowers us to write letters on behalf of those wrongly accused; to speak in the face of threats, to love in the face of hate, to share the gospel of Christ despite fears of rejection. When our hearts are truly filled with the boundless hope of Christ and his resurrection life…we are moved to action, to live and serve and love one another in light of that future. When we know that one day we shall be like him, we are moved to live lives of purity and power that are more and more like his, each day. When we know in our hearts that we are children of God, we begin to live like we belong at the Father's table.
Let me ask you today to think about the most difficult things you are going through right now…the biggest challenges, the greatest fears. How would hope in Christ change the way you look at that reality and respond to it?
Consider a family relationship that has soured or is in danger of disintegration. How would hope in Christ help you to look at that situation with the eyes of Jesus, to respond to that person with the words of Jesus; to pray for that person with the heart of Jesus? Hatred and resentment and unforgiveness crush the possibility of reconciliation; but the gift of hope enables us to persevere, to seek reconciliation, to write a note or make a phone call, to believe that all things are possible.
Perhaps you are facing financial hardships, mounting debt that seems overwhelming. Fear paralyzes us into inaction or just unending analysis. Hope brings calm and a new resolve to act. The hope we have in Christ can help us to act with intention… to begin tackling one bill at a time, perhaps the smallest one first as Dave Ramsey suggests, and with each payment to feel a sense of increasing confidence as we trust in the one who is our Provider and calls us to be wise stewards of his gifts.
There are not many things more unsettling than health problems. The power of hope is well known when it comes to healing. There is a reason why they call it "The City of Hope" and not "The City of Wishful Thinking." Our hope is more than just "wishful thinking," it is faith in the one who is our Great Physician…the one who has the last word on our diagnosis, who has our life in his hands from beginning to end, and who has already given us the promise of eternal life. In him we can also find new resolve to eat right, exercise and continue to manage our condition even after experiencing set backs.
This year I am filled with hope as we enter a season of vision casting in our church. We are asking three big questions: (1) What are the unique needs and opportunities where God has placed us as a church? (2) What are the unique resources and gifts that God has given us as a church? (3) What focus most energizes our staff and leadership? These are hopeful questions! They say to me, "Let's step back and see what God wants to do through us in this new season!"
What does God want to do through you in this new season? What boundless "garden of hope" does he want you to plant this year despite the apparent challenges of your family background, your finances, your education or your accomplishments?
"May the God of hope fill you with all joy and peace in

believing,
so that you may abound in hope by the power of the Holy Spirit"
(Romans 15:13)!
Gracious Father of our Lord Jesus Christ, we seek more than wishful thinking and pipe dreams.
We ask for the gift of biblical hope…a hope that is not limited by our family history, the size of our bank account, our intellectual ability, the list of our accomplishments, or any other cause for human boasting, but upon your infinite wisdom and unshakeable love for us in Christ.
May this hope be a
"sure and steadfast anchor of the soul"
(Heb. 6:19), nourished daily by your Word, purifying our speech, guiding the decisions we make and the actions we take; and showing others that indeed
"with God all things are possible"
(Matt. 19:26).
For the hope which awakens in us both holiness and thankfulness is this:
"When Christ appears we shall be like him, for we shall see him as he is."
Amen!