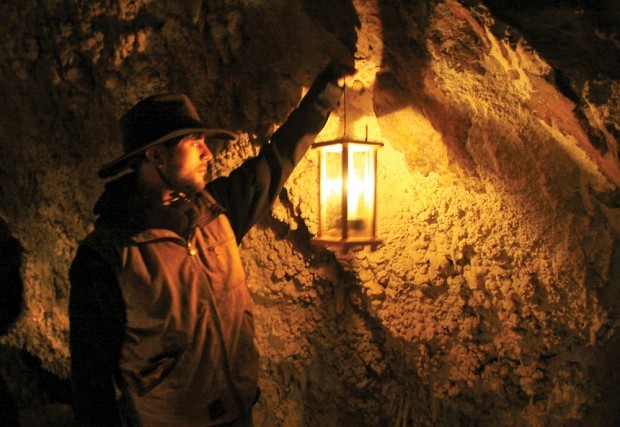 How can we recognize true Christianity or be sure that we are authentic followers of Christ in the spiritual and religious maze that we live in? John's letter was written to help us recognize some clear signs of genuine Christian faith. The second of these "life signs" is an
illuminated
life (
1 John 1:5 - 2:2
)
On my college ring are the words, "Let there be light," with an open book and light streaming from it. It is the motto of the University of California, and it refers to the Enlightenment principle of human advancement through the power of reason. With some irony, many have forgotten that these words are also a direct citation from Genesis chapter one and to God who is the source of all light and truth. This is the original Enlightenment…to be illuminated by the light of God…the purifying light which speaks the truth about sin, leads us to the blessing of repentance, and restores our fellowship with him and others.
"God is light and in him there is no darkness at all" (5). What John means is that God's light is the light of truth and purity. The Bible is filled with images of God, and of Christ as the light which illuminates our path in a darkened world.
As Moses led his people through the wilderness, the Lord went before them as "a pillar of fire by night, to give them light" (Exodus 13.21).

The golden lamp stand that burned continuously in the tabernacle and later, in the temple (Exodus 25.31ff.; 27.20ff.) was to be a reminder of God's saving presence and eternal guidance.

The Psalmist declares: "The Lord is my light and my salvation; whom shall I fear?" (Ps. 27.1); "Send forth your

light

and your truth, let them guide me; let them bring me to your holy mountain, to the place where you dwell"

(Ps. 43:3).

"Blessed are those who have learned to acclaim you, who walk in the

light

of your presence, O LORD"

(Ps. 89:15);

and again, "Your word is a light to my feet and a light to my path" (Ps. 119: 105).
Thus, John goes on to say, "in him there is no darkness at all… there is no falsehood, there is no deception, there is not a shred of evil in him. Clearly, having fellowship with God is the greatest privilege of human existence, yet we can't claim to walk with God in the light and walk from him into the dark.
One summer our family traveled to Carlsbad Caverns where it takes about an hour just to descend the entrance to this massive underground world. All along the path of these caves there are dim electric lights that guide your steps; but we didn't appreciate that light until we took a tour of the Queen's Chamber. There, the ranger asked one of us to turn off the switch which illuminated the caverns. All at once we were thrown into absolute darkness. I couldn't help wondering what it would be like to navigate the miles of narrow switch backs and bottomless gorges of Carlsbad Caverns without light. It would be quite simply, terrifying. Who would choose to grope their way out of here without light? No one! And yet many of us try to walk in the dark instead of God's light.
Now there are three forms of denial which John identifies as the evidence that we are trying to walk in darkness (vv. 6, 8, 10)….
The first of these is the denial that habitual sin breaks our fellowship with God. "
If we say that we have fellowship with him while we are walking in darkness, we lie and do not do what is true"
(6).
I think the easiest way to understand this is to think about our human relationships. I could say that "I love my wife," but if I began chasing after other women, never listened to her, served or supported her, those words would mean nothing. No one would call that a marriage. Yet, we can do the same thing with God.
We can claim that we have fellowship with God but do the very things that grieve his heart…thumbing our nose at his commands, chasing after the gods of
me
,
mine
, and always
more
… It's important to understand that such an attitude not only hurts us, it hurts God who loves us and wants us to have fellowship with him.
The next sign that we are walking in darkness is denying the truth of our sin nature.

"If we say we have no sin, we deceive ourselves, and the truth is not in us

(8)

John speaks here of those who deny the truth of our sin nature as human being; that "all have sinned and fall short of the glory of God" (Rom. 3:23).
After the sexual abuse scandal at Penn State,
NY Times
writer David Brooks noted how many commentators contemptuously asked, "How could
they
have let this happen?" We assume that
we
would have done better than they did. But Brooks argues that history shows how often ordinary people
don't
get involved in tragic or unjust situations. Psychologists even have a name for it—"the Bystander Effect." Brooks writes, "In centuries past, people built moral systems that acknowledged this weakness…They reminded people of the evil within themselves," yet today "we live in a society oriented around our
inner wonderfulness
" [see
David Brooks, "Let's All Feel Superior,"
The New York Times
(11-14-11)]. Our shock at the daily news headlines is simply the denial of our own readiness to do evil, given the right conditions.
The third false claim that John speaks of here is the most blatant:
"If we say that we have not sinned [perfect tense] we make him a liar, and his word is not in us"
(10). It's
the denial of the truth of our sin history
; the refusal to acknowledge our own past and to deal with it. One of the reasons that John makes this point is that there
was a spiritual movement in the 1st century called Gnosticism. Gnostics claimed to have special spiritual knowledge that was not available to the common herd. They thought of themselves as living on an exalted spiritual plane far above the rift raft below them. They were beyond the normal categories of sin and evil.
John addresses this phenomenon in his letter. By the way, beware of spiritual leaders who over-promise! Beware of those who claim to be spiritual "supermen." Beware of those who claim to have the 10 easy steps to spiritual enlightenment; or the elevator to spiritual and material success.
Even the most godly person you have ever met has done things in the past and in the present for which they need to repent and seek God's forgiveness. There is such a thing as an abuse of spiritual power, and we must be suspect of those who would deny their humanity or their dependence on God's grace.
I think it noteworthy that the only person to walk this earth without sin, did so with the most awe-inspiring
humility...
for our Savior called us to follow his example of
servanthood
; and humbled himself even to the point of offering his life for us on the cross. Now perhaps this is a bit of a tangent, but I think
that the one good thing about Denver's loss to the Patriots on January 14th is that it humanized Tim Tebow! People now know that God does not guarantee a touchdown every time you "Tebow" (the phrase coined for spontaneously kneeling in prayer like Christian quarterback, Tim Tebow). Tebow knows that both he and we are flawed and imperfect human beings; and that to claim otherwise is to deny the truth, as John would say, and to walk in the shadows.
So much for the evidence that we are walking in the darkness, but what about the evidence that we are walking in the light?
First, p
ursuing holiness in a healing fellowship.
For
"If we walk in the light as he himself is in the light, we have fellowship with one another,

and the blood of Jesus his Son cleanses us from all sin"
(7).
To walk in the light is to consciously and intentionally live in accordance with God's revealed truth and character. It does not mean that we are free of all sin, but rather that we understand we are not. Notice that John says that one sign that we are walking in the light is that we have fellowship with one another and the blood of Jesus cleanses us from all sin.
In other words, we need one another as we seek to walk in the light; and when we fail, and we will…we will also need the blood of Jesus which cleanses us from all sin. What does John mean by the "blood" of Jesus?
Biblically speaking, "blood" is the symbol of life; and it is the
life
of Jesus that was born in Mary, that lived with us, that died and was risen from the grave for us,
it is this life
that heals us and cleanses his Body. Blood brings life!
Blood contains hemoglobin which carries oxygen throughout the body. It carries white blood cells that fight infection and promote healing. Blood transports glucose, which provides energy; and one of the most visible signs that Christ's blood --
his life
-- is at work cleansing, energizing, and healing is when we are…
Secondly, confessing our sins and receiving God's forgiveness. "

If we confess our sins, he who is faithful and just will forgive us our sins and cleanse us from all unrighteousness"

(9; cf.

James 5:16). The word "confess" translates the Greek word homologomen (lit. say the same thing, or agree). To confess is to agree with God about our sin and its consequences (Rom. 6:23), and our need of his cleansing power. Now confession is not only to God…but to one another and those we have hurt: Therefore James says, "Confess your sins to one another and be healed." We know we are in a healing fellowship when we can take off our masks of perfection, be honest about our sins, and receive God's forgiveness.
Dietrich Bonhoeffer once wrote in his classic on Christian community Life Together that, "The pious fellowship permits no one to be a sinner. So everybody must conceal his sin from himself and from the fellowship. We dare not be sinners. . .so we remain alone with our sin, living in lies and hypocrisy. The fact is that we are sinners!" Yet our Lord promises us that when we confess our sins, when we practice honesty and transparency in a gracious fellowship of fellow sinners who seek to be more and more like Jesus…he who is faithful and just forgives us our sins and cleanses us from all unrighteousness. And finally, we are walking in the light when we are…
Finally, trusting in Christ as our Advocate

.

"My little children, I am writing these things to you so that you may not sin. But if anyone does sin, we have an advocate with the Father, Jesus Christ the righteous;

and he is the atoning sacrifice for our sins, and…for the sins of the whole world"

(2:1-2).

To walk in the light is to pursue holiness in a healing fellowship of Christ's people; to walk in the light is to confess our sins to God and each other and receive his forgiveness. And finally, to walk in the light is to know that Christ is our Advocate (lit. our parakletos, the one who comes alongside to help us in our time of need" the one who is the atonement for our sin. In the coming weeks we will explore what it means that Christ is the atonement for our sin…but let it suffice to say that atonement means "at-one-ment" – that Christ has joined us to God through his life, death, and resurrection; that joined to Christ by faith I can be assured of victory over the powers of sin, evil, death, and hell. He is really is my Advocate, the one who came to help us.
One weekend, author Paul Tripp gave his teenage son permission to spend the weekend at a friend's house. But during the weekend Paul got a call from the friend's mother, telling him that his son was not at her home. (Her son had felt guilty about covering for Paul's son and confessed to his mom.) Paul was truly grieving that the trust between him and his son had been broken. He went to his bedroom to pray for God's help, and then it hit him…

Because of his love, God had already begun a work of rescue in his son's life. "Now, rather than wanting to rip into my son," Paul wrote, "I wanted to be part of what this God of grace was doing in this moment." After giving his son a couple of hours to relax upon his return, Paul asked if they could talk.
"Do you ever think about how much God loves you?" Paul asked his son.
"Sometimes," he answered.
"Do you ever think how much God's grace operates in your life every day?"
His son looked up but didn't speak.
"Do you know how much God's grace was working in your life this weekend?"
"Who told you?" his son asked.
"Son, you have lived your life in the light. You've made good choices. You've been an easy son to parent, but this weekend you took a step toward the darkness. You can live in the dark if you want. You can learn to lie and deceive. You can use your friends as your cover…or you can choose to live in God's light. I'm pleading with you: don't live in the darkness; live in the light."
"As I turned to walk away," Paul says, "I heard his voice from behind me saying, 'Dad, don't go…I want to live in the light. Will you help me?'"
Will you help me?! Can you imagine Paul Tripp saying, "No"? I can't, nor can I imagine that Jesus our Advocate and Helper who has called us out of the darkness and into the light, would say anything but "Yes.

" [

Paul David Tripp, Forever: Why You Can't Live Without It (Zondervan, 2011), pp. 151-153].
Back in Carlsbad, NM, 750 feet below the surface in the Queen's Chamber I could not see the hand in front of my face for a few brief moments…but instead of turning on the electric lights again, the Park Ranger struck a match, a single candle flame suddenly pierced the darkness. We could see the walls of the cave again, we could see each other, we could see the Ranger who was about to lead us back out.
"I am the light of the world" Jesus said, "and those who follow me will not walk in darkness but will have the light of life."
Almighty God, Light of the World, please shine your light into the shadows and darkest corners of our hearts; illuminating us with your truth and purifying love, and leading us to confess every sin, habit, or activity that is harming our relationship with You and those around us. Let your light also shine into our homes, into our neighborhoods and cities, and into the heart of our nation. Let this world be drawn to the light of your word which commands us to love one another as you have loved us. Draw us now into the radiant fellowship of your Son who revealed your perfect, self-giving love when he became one with our human flesh in the womb of Mary, and one with our sin and shame on the cross. Through faith in Christ we are now united to your death-conquering life…and walk in the power of your Spirit as children of the light. Amen!